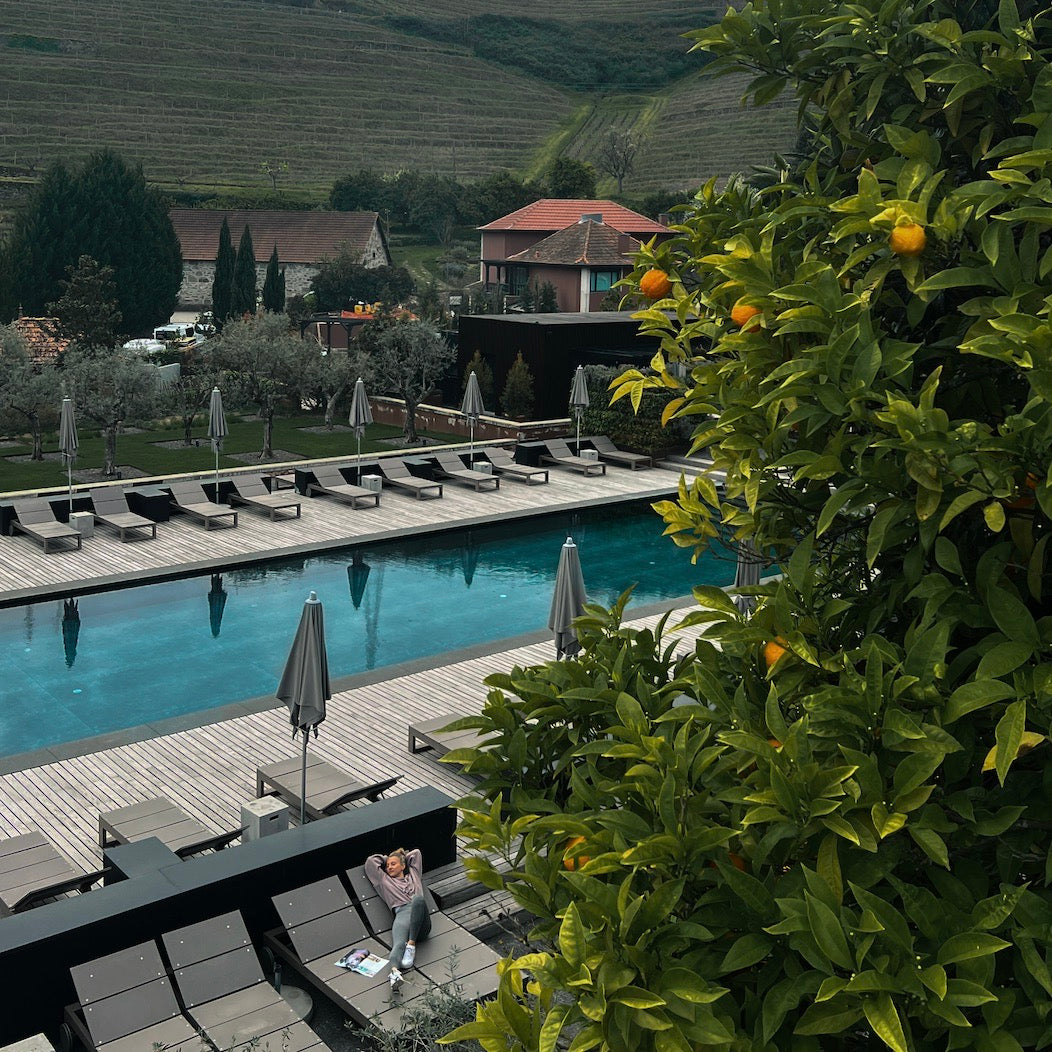 A weekend in the Six Senses Douro Valley - a UNESCO World Heritage site
Six Senses is situated 125 kilometers from Oporto International Airport in the stunning and serene setting of the Douro Valley, a UNESCO World Heritage site and the oldest wine-producing region in the world, through which the River Douro meanders lazily. 
[Anzeige]
Hi travel buddies,

Today I would like to share with my friendly community of fellow travel enthusiasts the Six Senses Douro Valley one of those beautiful places that will inspire you to dream, revitalize yourself and reconnect with nature and why I chose to dedicate myself to travelling. It is not just the amazing hotel that bowled me over but also the exceptionally cordial people who manage the resort and consider themselves as a big family, which is evident in everything they do and has made the hotel what it is today.


Six Senses is situated 125 kilometers from Oporto International Airport in the stunning and serene setting of the Douro Valley, a UNESCO World Heritage site and the oldest wine-producing region in the world, through which the River Douro meanders lazily. The resort is imbued with the romance of 19th century architecture and boasts 60 guest accommodation units on an estate spanning 8 hectares, as well as a wine cellar stocked with local vintages, a lush Six Senses Spa and the Vale de Abraão restaurant where one can choose between the open kitchen, terrace and dining room, each with their own particular atmosphere.

Location: Six Senses Douro Valley

Travel month: March

Weather: temperatures range between an average high of 18 degrees Celsius and an average low of 10 degrees Celsius.

1) Accommodation

At Six Senses, one can choose between 60 guest accommodation options, from the Quinta Superior, Quinta Deluxe and Quinta River rooms to generous suites. The décor of the fully renovated rooms brings together a natural style and traditional features from times gone by, exuding a serene atmosphere with their modest lighting and simple lines. The bedroom terraces and the many panoramic windows afford wonderful views over the vineyards.

For those seeking a leisurely time out, the indoor pool beckons you to take a refreshing dip with views of the garden through the floor-to-ceiling windows, to enjoy deep relaxation with underwater sound therapy and massage jets, or to rest and recover in the vitality pool. If you prefer a more active stay, fitness training is available through on-demand classes under the instruction of certified personal trainers. Either way, your wellbeing is optimally ensured.


2) Dining

The Six Senses pays attention to sourcing and celebrating local regional produce from the surrounding verdant valley and countryside. Furthermore, fresh ingredients are provided by the estate's own organic vegetable and herb garden, with optimal freshness and flavor ensured by only harvesting them as and when required.


Lunch – open kitchen and terrace

What better way to start the day than with a sumptuous breakfast buffet before heading out to explore, relax and enjoy the spa. Seasonal local and regional dishes are served throughout the day, including an open cooking station with a wood-fired oven for baking bread and making traditional oven dishes, where cookery classes are also held for guests to learn how to refine their Portuguese cookery skills.


Dinner – the dining room

This traditional dining room with its beautiful classic decor and wealth of detail exudes a warm and private atmosphere. The menu has the best of regional fresh ingredients, seasoning, flavors and beautifully presented dishes inspired by local marketplaces but with an international twist. Dinner tables can also be placed in the woods by the river at a secret destination as a pop-up dining experience and fun alternative. The menu remains a secret until the last moment to surprise the dinner guests.

3) Experiences

A wide range of leisure options are offered by the guest experience makers at Six Senses, with highlights including a visit to prehistoric rock art sites in the Côa Valley, the Douro International and Alvão parks, as well as trips to some of the oldest wineries in the world, quaint villages, historic churches and castles, whether as a guided walk or drive. The nearby river also provides the opportunity to enjoy cruises and activities on and by the water.

Tile painting

Your GEM can provide details of a variety of creative and painting workshops that you can take part in, such as the traditional art form of painted tiles that tells stories from Portuguese history, often allegorical. You have the opportunity to learn the art and make your own masterpiece to take home with you as a souvenir.


Chef's table

As an exclusive experience, the chef's table is set up in a cosy corner of the main kitchen for the chef himself to host a maximum of four guests, who can witness the bustling activity in the busy kitchen as the dishes are prepared.
Alchemy Bar

The Alchemy Bar at Six Senses contains unusual exotic herbs, salts, fruits, and essential oils that you may mix together to make aromatic washes and masks with fresh, seasonal, and organic garden ingredients. The goal is to create something extraordinary from regular ingredients.
In an interactive health session, you'll learn everything you need to know about alchemy. You will also be able to make your own scrubs, hair shampoo, and other products under the supervision of a qualified therapist. So what are you waiting for. Try it out, it was a great experience.

4) Wellness and spa

The spacious Six Senses Spa boasts a heated indoor pool with massage jets and a refreshment bar, a gym with the latest fitness equipment and expert instructors, as well as 10 treatment rooms where you can indulge in a wide choice of special treatments, multi-day programs and a locally inspired therapies, such as based on grapes or citrus fruits.

The trendy interior brings together nature and Portuguese tradition, featuring the elements of water, nature, space, stone and wood, as well as ecofriendly materials that exude a soothing atmosphere. You will feel totally relaxed as soon as you step in to this welcoming and somewhat quirky setting that invites you to interact with other guests. The reception area has comfortable low seating for couples and individuals.


5) Sustainability

As a UNESCO World Heritage Site, all the stakeholders in the region are under a strict obligation to preserve its 3500 botanical species. Six Senses for its part continues to be committed to preserving the environment and mature trees through maintaining sustainable woodland on the estate.


The team strives to reduce the ecological footprint of the hotel and mitigate any negative impact on the environment. In accordance with this, we would like to inspire others to make the necessary changes by spreading the word.
I would like to cordially invite you to enjoy a stay at Six Senses in the Douro Valley.
All in all I had the best time here and can't wait to come back some time.