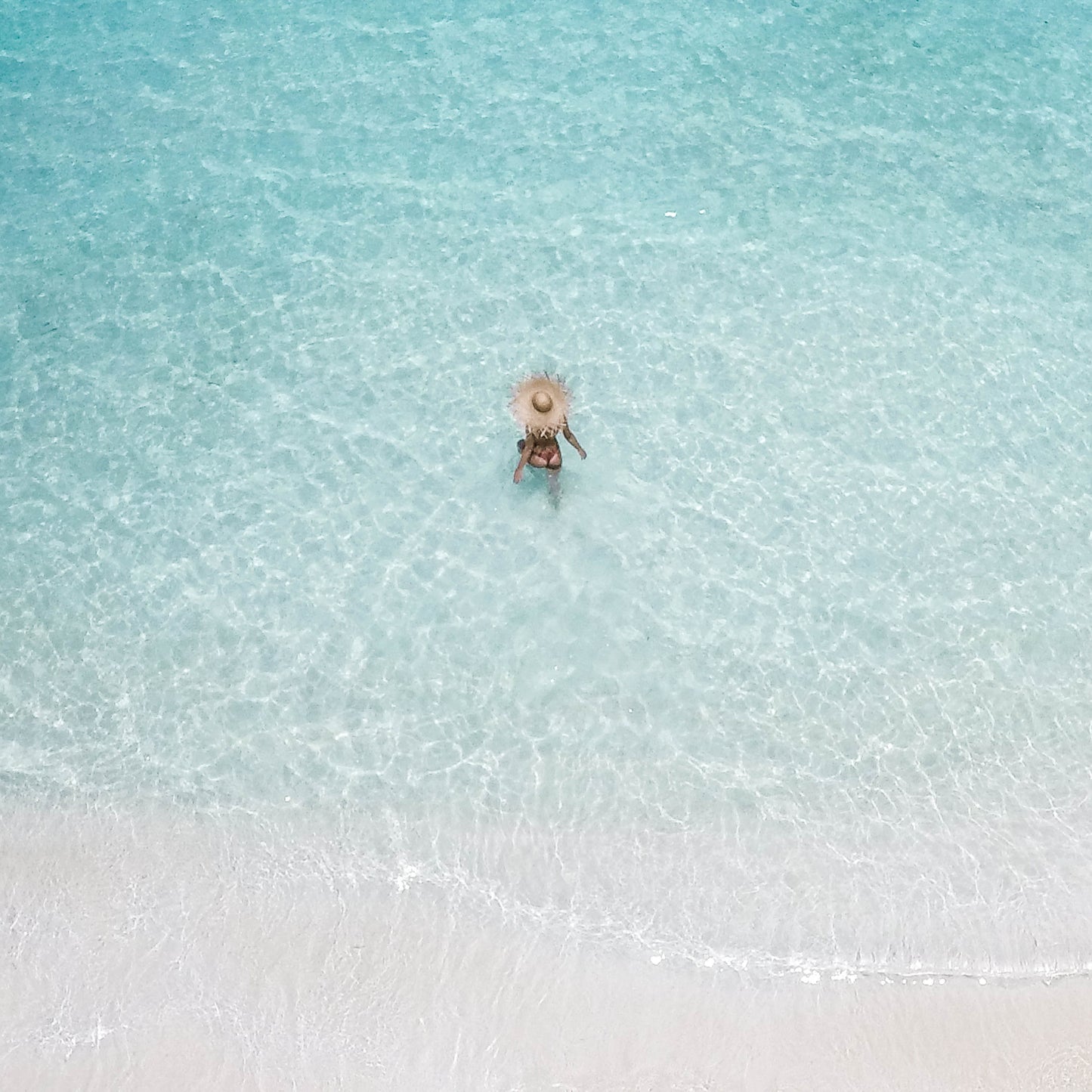 Paradise found in Exuma, Bahamas
Today I want to take you with me on our amazing journey to the Bahamas and the little Island called Exuma ...
Hi travel buddies,
Today I want to take you with me on our amazing journey to the Bahamas and the little Island called Exuma. The plane ride from Atlanta to Georgetown (Exuma), with all those sandbanks from above, was the most scenic start we could ever imagine. Exuma is a district of the Bahamas, consisting of over 300 Islands also named as the Cays – imaging the flight above them. Great Exuma, where we stayed, is ca. 37 mi (ca. 60 km) in length and the biggest Island in the Cays.
Location: Paradise Bay Exuma (Bahamas) – Bed and Breakfast Resort
Travel month: April
Weather: We had just perfect weather with 25-28ºC every day and a slight wind which makes it perfect and not too hot. In the last few days the wind was a bit stronger which only makes the water less clear, but that didn't bother us at all.
First things first: Preparations
If you are planning to visit the Bahamas you need a Visa (ESTA) well in advance. But make sure to sign up on the right page for your ESTA, because there are a lot of scammers out there.
If you planned to take some amazing pictures from above with your drone gear, be aware to register your drone at the Bahamas Civil Aviation Authority (http://www.bcaa.gov.bs). And also make sure to get some cash beforehand – because the ATMs at the airport are either broken or not existing – and you have to pay a deposit (half of the original price of the drone) to import it. You get the money back when you leave the country and show them you are taking the drone with you.
Where to stay: 
Finding a cute place to stay is one of the most exciting and fun things to do when it comes to planning your holiday, but not when it comes to Exuma. Actually, it was very frustrating, and it cost us a lot of time. At one point I remember we considered going somewhere else because in Exuma you don't have a vast choice of hotels. Either you go for the most expensive Hotel with good recommendations or you go for the second-best and have a better camping spot. Just kidding … I am being a bit dramatic :-D … but this whole process was so frustrating. In the end, we were so lucky with our hidden gem called 'Paradise Bay Hotel'. This Bed and Breakfast Hotel is located at the beach called Paradise Bay which is such a beautiful bay with white powdery sand. The cute beach bungalows all painted in different colors are spacious, above-average standard and very clean. The interior reminded me of a cute beach house in the Hamptons (Long Island). The theme is all about beach themed Interior design.
Restaurants:
Our favorite restaurant by far, where we almost ate every day was the restaurant directly located at our resort. It was a French restaurant called 'La Fourchette Bahamas' with everything on the card you could dream of. Steak, Fish and a lot of vegetarian dishes as well. If you are vegan that might be a bit more challenging to find a good restaurant on the island because the choice is not so big. 
One day you should go to the little neighbor Island called Stocking Island (A water Taxi costs 10 USD) and enjoy an original Conch Salad at the famous restaurant 'Chat and Chill'. It is supposed to be the best local food there but as I am not a big fan of fish you can also enjoy a variety of different dishes there and it's DELICIOUS!
On our road trip towards Tropic of Cancer Beach we drove a little bit further up and passed a very cute little local bakery called 'Moms Bakery' and OMG try the cinnamon rolls – everything is fresh and still warm.
The restaurant at the 'Peace and Plenty Resort' is an Italian restaurant and we can highly recommend the pasta there. 
Bon Appetit <3

What to do:
If you think that the Bahamas or the island of Exuma is very idyllic but quite boring, then you are wrong. Because this very small island has a lot to offer starting from a large selection of excursions to road trips along the whole island or diving courses of all kinds are possible there. 
Excursion to the Pigs and Sharks:
This excursion was definitely the highlight of our trip and I will never ever forget this experience. When it comes to the right company to book this excursion with, I highly recommend you to do some research in advance. To find the perfect company is the most important part of this entire trip. You can either go on a private tour or a public tour, which obviously differs in the pricing. We first thought to go for the private tour BUT it turned out very expensive (ca. 1500 USD), so we decided to book a public tour with the Company 'AQUAQUEST Experience'. This company was highly recommended to us by a local woman working at our hotel. And I need to admit it was the best decision ever. The costs were about 300 USD per person for a full day excursion. The crew was very funny, the boat was big and comfortable, and we basically stopped at all the spots I wanted to. But the most important thing was, there were not too many people on the boat. The distances are huge and you want to make sure that you have a seat on board. I have seen small boats with up to 50 people on board. Now let's get started with this amazing experience:
Iguanas:
The first stop of this trip was at a small island with these cute little Iguanas. Some of you have sent me dm's saying I must be brave to feed them, but to be honest, these cute dragons were so gentle, and I never felt uncomfortable. Ask the crew for some bread and just watch them enjoy the show :-) 
Swimming with pigs:
When people hear Exuma or Bahamas they instantly think of the swimming pigs. But I need to admit this was never on my bucket list. I wanted to see the nurse sharks at Compass Cay and the pigs were just part of the excursion. Anyway, it turned out to be very funny but also SOOO scary. Some of the pigs are huge and not shy at all, they run towards you because they expect you to feed them. You have to raise your arms as a sign to show them that you don't have any food. But hey it was also very funny and the baby pigs are adorable. BUT PLEASE guys if you ever visit this place, please don't pick up the baby pig, they (the mom) don't like that.
Swimming with nurse sharks:
This was a dream of mine for so long. When we started planning our trip to the Bahamas I instantly searched for some trips and excursions to Compass Cay, the place to be if you want to swim with nurse sharks. We arrived around noon and to our surprise it wasn't that busy as I thought it would be. Our boat was actually the only one. There were only some fishermen that already prepared some tuna to feed the sharks. You can't bring your camera gear but your GoPro and Phone. But unfortunately, we ran out of battery on our GoPro, so we only took a few pictures and enjoyed the time there. The sharks are super gentle and not aggressive. We were told to hold our hands like a fist because it happened in the past that some sharks mistook fingers with some food. So just be careful and enjoy this epic moment.
The Drug plain of Pablo Escobar:
Unfortunately, the sunken plain of Pablo Escobar is located in Normans cay, which is a bit to far away from Exuma by boat. But the trip takes you to a small plane. The thing is: there are so many different planes in the Exuma keys that if you book the right excursion the chance to find one is very good.
David Copperfield's – Sunken Piano at Musha Cay:
Yes, you read right: There is a sunken piano located at Musha Cay. The depth of the Piano is about 4-5 meters so you can easily dive down, but the only tricky thing is THE CURRENT. Omg I have never ever experienced a stronger current in my life, and I am a good swimmer. Apparently, the current depends on the weather conditions but we had bad luck that day, but it was worth the struggle. 
Thunderball Grotto:
This Grotto located closed to Staniel Cay became famous because of the James Bond Movie 'Thunderball' in the 70s. Some scenes of this movie were filmed at this place and that is why it is today one of the most popular spots in the Bahamas, what you can instantly see because it's packed with tourists. But omg you shouldn't miss out because it's so beautiful.
Sandbank feeling:  
To be honest, you don't need to go on a boat trip to see beautiful sand banks. Just wait for the low tide and drive to Houlover Bay or Cocoplum beach. It is like a fairytale and you are almost on your own EVERYWHERE & ALWAYS.
Rent a car:
An absolute must if you want to explore the island and all those beautiful beaches: you need to rent a car. We rented a Toyota (directly across from the airport at Thomson's car rental) in advance, just a very simple category and paid 800 Euro for 10 days. The public transport on this island is just not existing so if you don't want to spend so much money because you want to relax at the beach most of the time, then just rent a car a few days. Exuma isn't that big but worth to see every corner:)                                                                                                                                        Stop 1: Tropic of Cancer Beach
Stop 2: Cocoplum Beach – the sandbank heaven
Stop 3: Haulover Bay – the most beautiful sandbank formation at low tide
Stop 4: Hoopers Bay – swim with turtles
Rent a Boat at Minn's watersport
If you still haven't had enough activities, you can rent a boat at Minns Watersport and visit some lonely beaches like the Starfish Bay. The chance that you have a beautiful beach with white sand and shallow water all to yourself, is very high! We combined this trip with a visit to Stocking Island and had lunch at the Chat and Chill bar. You have a range of different motorboats the differ in size and pricing, but the good thing is you don't need a boat license to rent a boat. 
Final thoughts:
Just GO! You won't regret it
Jana