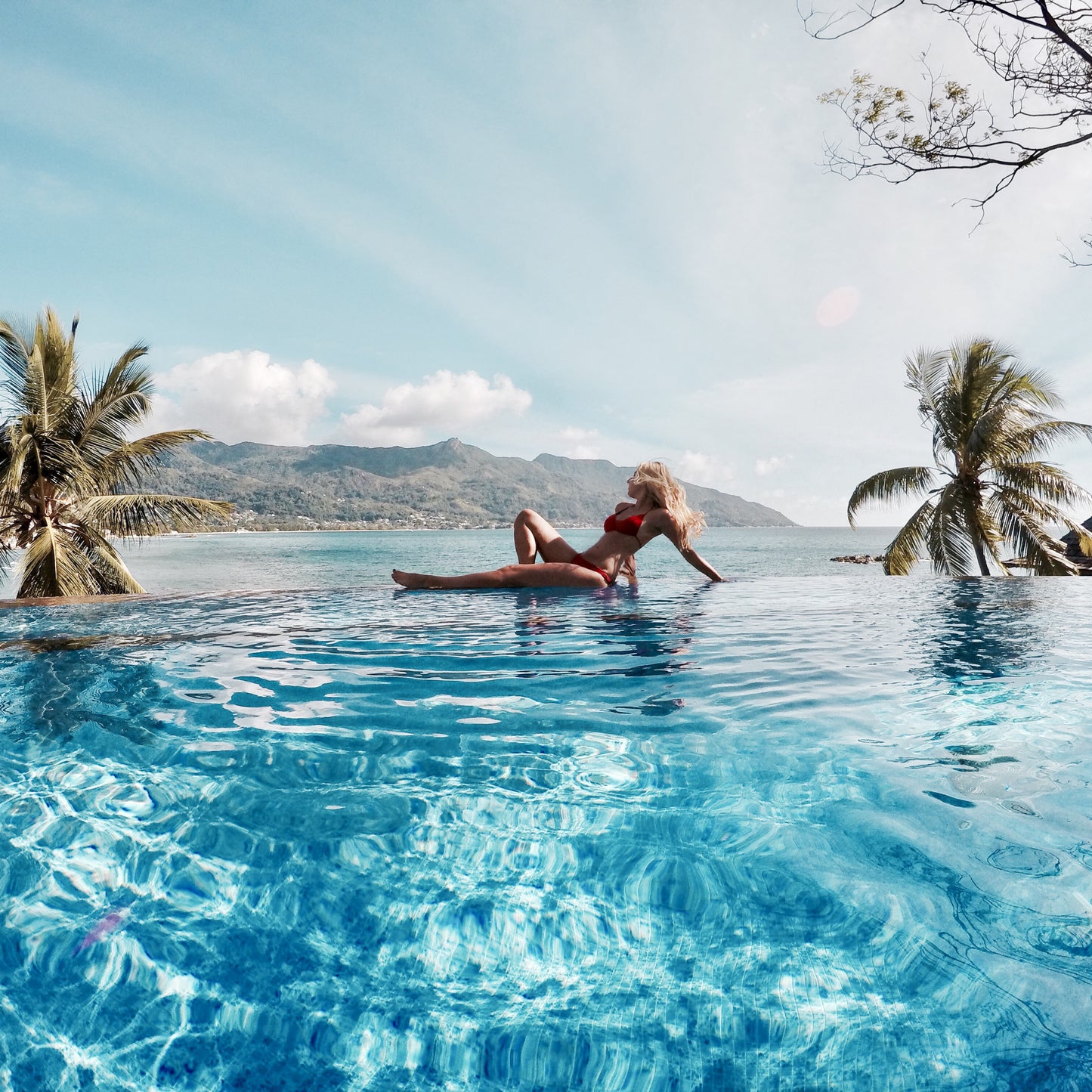 Our beautiful trip to the Seychelles
The Seychelles have been on my watch list for soooo many years now, however I never managed to go there. So, when I finally booked the flights … I couldn't wait go

Location: Hilton Seychelles Labriz and Hilton Seychelles Northolme Resort & Spa

Travel month: August

Weather: We had just perfect weather with around 28ºC every day. It only rained about 1 day of the 2 weeks.

1. First things first:
Traveling to the Seychelles is straight forward. Next to the short-time difference to Europe you don't need a Visa as a EU citizen. Just like in the Maldives, there are several islands you can visit in the Seychelles of which some are large, some are smaller, and some are a private hotel islands. To get to the various islands (depending on size and location) you can either take a helicopter (which is expensive), take a flight with a local airline or take a boat (this is pretty cheap). When taking a boat, you must keep in mind that the sea in the Seychelles is very rough, so if you have a weak stomach you might rather want to fly. Ferry tickets you can easily purchase online. So, pick and choose … however if you decided to travel to the Seychelles … it will be a beautiful experience 


2. Where to stay:
There are various hotels or even bed and breakfast hotels you can choose from, consequently the price can vary. The private islands are of course extremely stunning locations, but you will find wonderful beaches almost anywhere on the islands. We choose to stay at multiple different Hilton Hotels and went on day trips from there to visit various destinations.
Hilton Seychelles Labriz Resort & Spa
This hotel is situated on its own little secluded island which you reach from the main island. First, we arrived at the hotels own private jetty, from where you transfer to the island in a 30 min boat ride. When you arrive, you get a small private tour of the island with a golf cart and then get dropped of directly at your little villa. The first impression was already amazing … everything was soooo gorgeous. We had a garden villa which was just a little dream come true. From the large spacious bedroom to the magnificent outdoor shower it just had everything, and it was just 20 meters from the beach. So, the first thing I did was to put on a bikini and jump into the waves For dinner and lunch, you have various restaurants to choose from, but I loved the evening buffet the most. They have different mottos for meals every evening and you have many different things to choose from It was a pleasure to stay at this beautiful piece of paradise in the middle of the ocean. After several days, we then were transferred to the Hilton Seychelles Northolme on the main island …


Hilton Seychelles Northolme Resort & Spa
… which was just as beautiful. When you arrive you immediately see the amazing infinity pool facing the ocean. The rooms are just as gorgeous, and I would recommend trying to get one of the rooms with the best sunset views its sooo romantic sitting on your balcony and watching the sunset. Besides the great pool and the great food, the resort has a small secluded beach area which is sooo cute and relaxing.

3. What to do:

What to do around the two hotels:

Hilton Seychelles Labriz Resort & Spa
On this little island there are some many things you can do! There are some beautiful hikes you can go on to reach various hidden beaches, or you can go for a small bike ride on the island, or you can go diving or maybe just play tennis … We did a bunch of these things, however the first couple of days were more for relaxing.

Hilton Seychelles Northolme Resort & Spa
From the main island you can easily visit just about everything, you can even reach Praslin or La Digue with day trips. Especially gorgeous are the beaches on the main Island, however I would not recommend going to Beau Vallon Beach, this is a bit touristy. All others are basically just breathtaking! Keep in mind that there are very strong currents in the Seychelles, so it might be extremely dangerous swimming during the day. But don't worry, there are always flags at beaches that show you if it's safe. We also explored the beautiful Moyenne Island with all the cute Turtles they live on that non-inhabited Island.


4. Final thoughts:
All in all, the Seychelles were just extremely beautiful. I definitely have to go back, because I didn't have the chance to see everything yet … and concerning the hotels, I can strongly recommend them both, they were just soooo stunning!