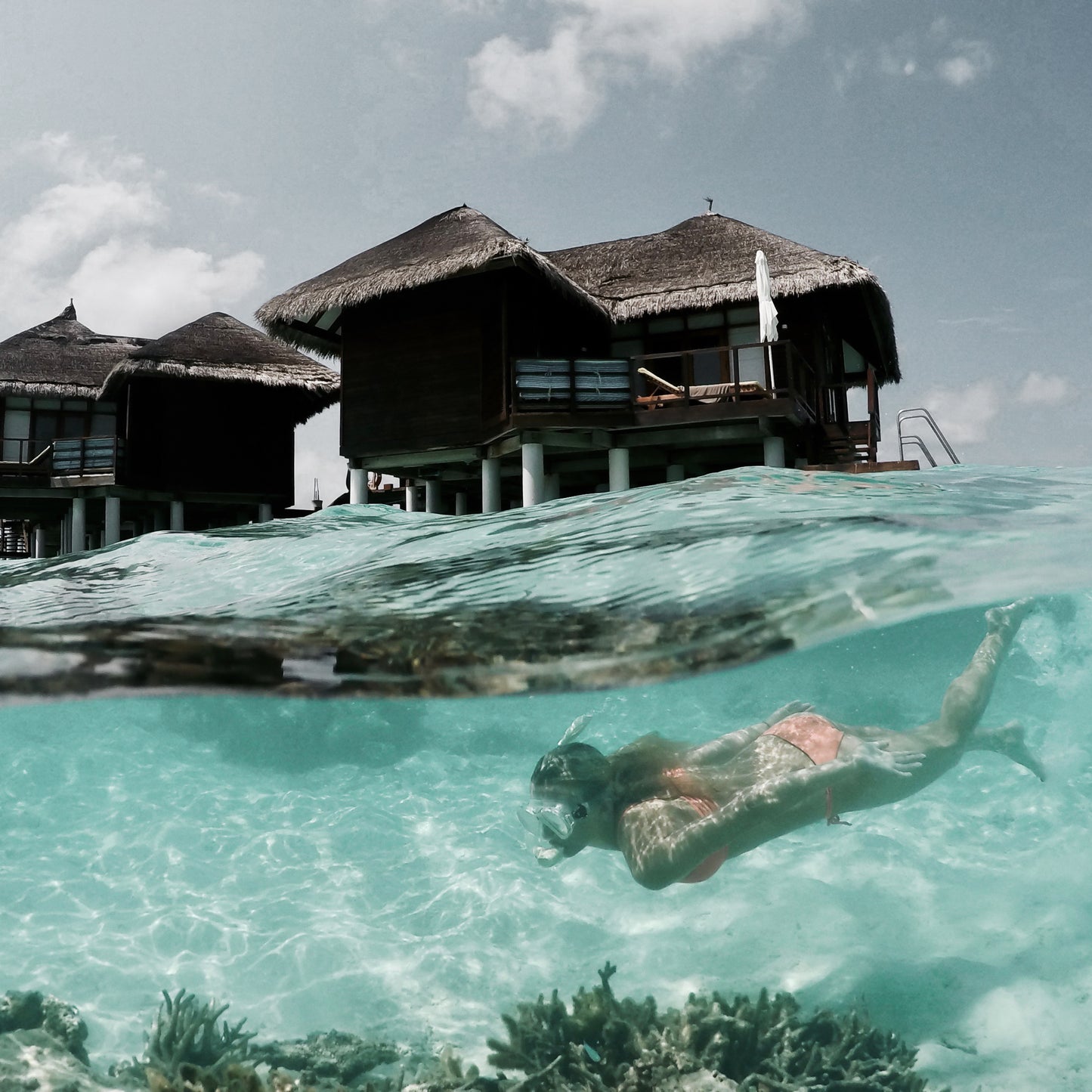 Paradise on earth – The Maldives
To be honest with you, the Maldives wasn't on top of my bucket list, but looking back it should have been ...
Today I want to take you with me on my journey to the Maldives. To be honest with you, the Maldives wasn't on top of my bucket list, but looking back it should have been Don't get me wrong I knew it would be a beautiful destination with endless deserted white beaches and crystal-clear water, but as a passionate traveler I thought I would be bored after 2 nights. But I was wrong! The Maldives are way more, than a place to just relax on the beach, it offers more water related activities than any place else. From scuba diving to taking diving courses for your diving license all the way to snorkeling with turtles, manta rays or whale sharks. The Maldives were a little dream come true
Location: Resort Maafushivaru Maldives

Travel month: March

Weather: We had just perfect weather with 30ºC every day. I think it only rained 1 day of the 2 weeks.



1. First things first:

Next to the short-time difference to Europe the good thing about the Maldives, is that you don't need a Visa as a EU citizen. Regarding the choice where to stay, you must pick and choose wisely, because the price range is endless. Also, you need to consider that some resorts require another flight with a seaplane from Male Airport, which can range between an additional 30 min to 2 hours. In case the hotel states they have a speedboat transfer to the resort, the probability that your close to the Airport is high, then you might have some additional noise while e.g. trying to relax at your resorts hotel pool.


2. Where to stay:

After comparing several websites, we finally found a cute travel agency in Munich that helped us find the best price and helped choose the right resort. I must say at first, I was very skeptical about travel agencies (just because I have never used one before ) however this helped us save at least 40% in total when comparing to all the online websites. I don't think this is always the case, but I would at least consider it. Finally, we decided to go with the beautiful Maafushivaru Resort … it caught our eye immediately When staying at a resort in the Maldives there are always various rooms/villas/bungalows to choose from.



At the Maafushivaru Resort you can choose between a water bungalow and a beach villa/ beach villa with pool. All are very unique but totally different. We choose to go with a combination of staying in a beach villa the first couple of days and a water bungalow the next couple of days.

The beach bungalow is cute. You have a beautiful outdoor shower and a small cabana on the porch in the front, which is really helpful during midday when the sun is roasting you and you just want to take a little nap. The water bungalow however, has direct access to the clear blue water, that you can just jump into directly before breakfast or have your own private sunset swim with your Love . And the food …. it was just amazing! I could have eaten the entire day … oh wait I did Luckily, we were very active during the day to stay in shape haha! It was a pleasure to stay at this beautiful piece of paradise in the middle of the ocean.

3. What to do:

The Maafushivaru resort has a lot of different activities to offer. You can go Snorkeling, Diving, do water sports … I could go on. We choose to go with the following:
Lunobo
The hotel has an additional small private island – just 5 minutes away with the boat – that you can take a trip to and enjoy a kind of Robinson Crusoe feeling. You can either stay their overnight (for an additional charge) or have a small cute picnic while relaxing in the sun. We had the picnic … it was great We had the entire Island for ourselves, which was the best feeling ever.

Manta/ Turtles
Also, we decided to go on several snorkeling trips. The hotel offers several of these trips which you can easily book when arriving at the hotel. We choose to go with the manta/ turtle snorkeling experience. They take you out with the boat and then you jump into the crystal-clear water and get to see these unbelievable creatures underwater. It was such a beautiful trip. I loved swimming with the manta rays Of course these are wild animals and you have to be lucky to see them. Nevertheless, just swimming in the middle of the ocean surrounded by the most beautiful wildlife and corals is worth the trip. Although, I was shocked by the advanced state of coral bleaching.




Whale Sharks
And finally, the best always comes last … we went snorkeling with whale sharks This was definitely on my bucket list, and luckily our hotel offered trips to swim with whale sharks. They take you out on a 45 min boat ride, to a location where these beautiful creatures love to swim because of plankton. There is no guarantee that you will see whale sharks … this can demand on so many factors, however we were lucky! What an amazing feeling to swim with this giant fish. It was one of the most BEAUTUFUL things I have encountered so far.


4. Final thoughts:
The Maafushivaru Resort was just amazing, the staff was so friendly and there was so much to do … the 2 weeks just flew by. All in all, out trip to the Maldives was just wonderful from picture perfect blue water to swimming with whale sharks it really had it all. Can't wait to go their again