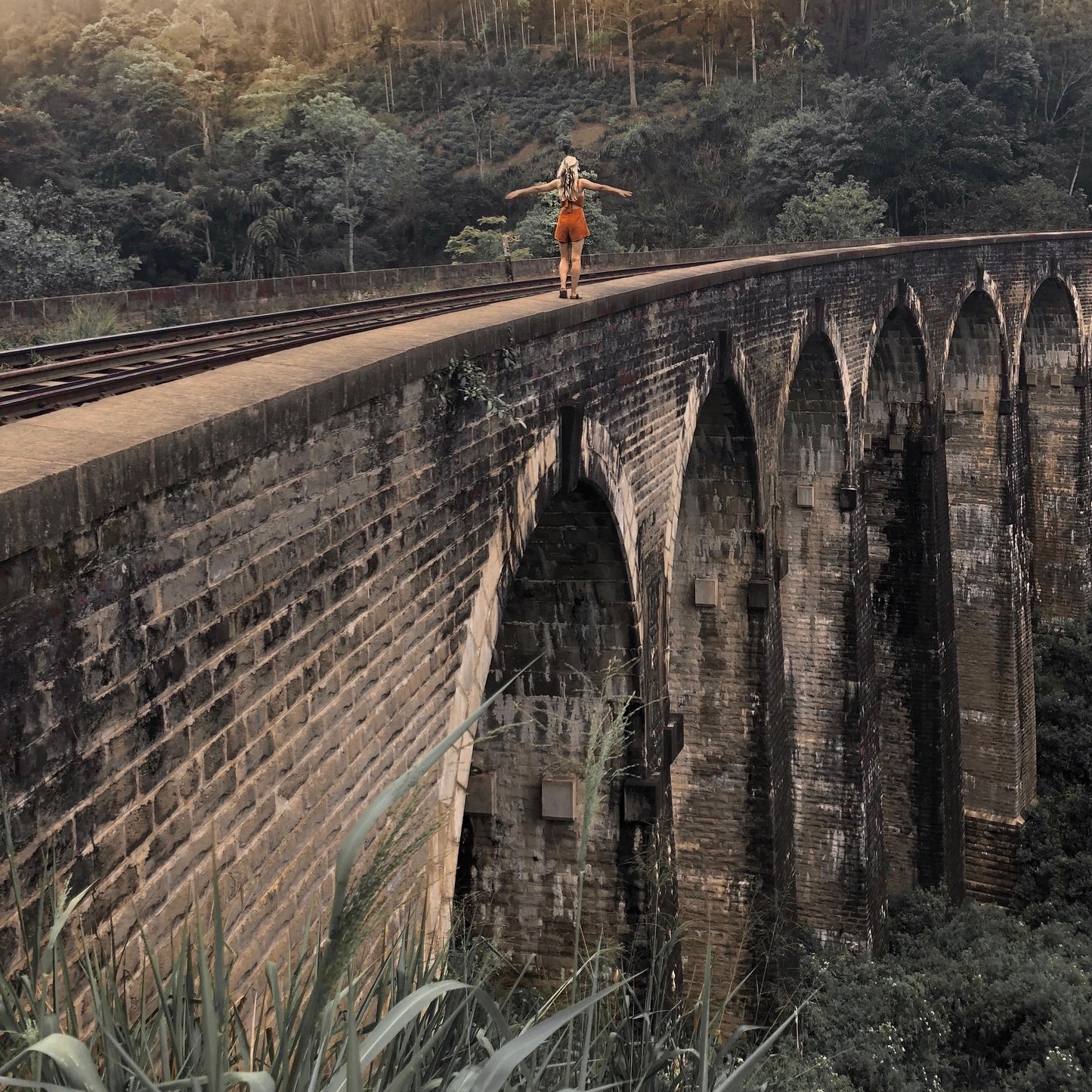 Sri Lanka (Part 2) – Train ride Kandy to Ella, Little Adams Peak, Nine Arches Bridge and Diyaluma waterfalls
As promised, I am continuing my Sri Lanka travel-story with Part 2 of my 10-day journey ...
Hi travel buddies,
As promised, I am continuing my Sri Lanka travel-story with Part 2 of my 10-day journey, which brought us from beautiful Kandy to Ella. Starting with a unique and exciting 6-hour train ride to the little Adams peak over to one of the most beautiful Waterfall trails and pools makes part 2 a very special part of my Sri Lanka journey.

Lets start with …
… the Train ride from Kandy to Ella – Ella Mountain Relax Cottage
Train ride Kandy to Ella

Tired and still a bit jet lagged, we finally found our seat in the 2nd class oft the train and enjoyed the journey trough some tee fields on our way towards Ella town. While we both where sleeping, eating and just relaxing we also met many interesting people from everywhere in the world. The most stunning part of this scenic train ride, that everyone should experience in Sri Lanka, was the part between Nuwara Eliya and Ella Town (50 km). So please stay awake and enjoy :-).

Once we arrived in Ella we checked into our Homestay "Ella Mountain relax cottage" which was also one of the best places we stayed for low money (30 Euro p.P.). To be honest, it wasn't fancy at all. The toilet was a bit run down and the room was very simple furnished room, BUT it was clean, the staff very friendly and the VIEW just epic. Another important thing was that the little Adams Peak was just "around the corner" (about 45 min walk to the top), where we were were planning to go in the early morning.
The afternoon view from our Homestay Our monkey

Exploring Ella – Little Adams Peak


Ella Town
Some good Curries after a long day

When the alarm rang at 6 am right before sunrise, Laura and I where super tired and both a bit grumpy as we couldn't fall asleep because of the monkey that was living with his family on our roof … they were playing catch the entire night. Anyway, we decided to attack the day instead of being grumpy and jumped out of bed to reach the Little Adams peak for sunrise. It's highly recommended to wear sport shoes or hiking boots, as the trail is not paved as you can imagine. The hike itself is very beautiful and scenic and not to steep at all.

After our Little Adams Peak excursion we were super hungry and went back to our Homestay for some coffee and breakfast before our next adventure – the Nine Arches Bridge.


Breakfast with a view

Nine Arches Bridge

After our amazing breakfast overlooking the mountains of Ella, we started our trip to the Nine Arches Bridge. As we didn't know how to go there, we took a Tuk Tuk arranged by the owner of our homestay. A small trail away: Wow, I have seen so many photos of that bridge before, but I was so amazed when I saw it in reality. The wonderful stone train bridge was built by the British and looks so beautiful with it's nine arches. The bridge is located between Ella and Demodara station in the middle of some green tea fields and tropical plants.


We walked around the bridge and took some photos and also watched people who where taking pictures and flew their drones … Luckily it wasn't to busy that day to enjoy this magical place to the fullest. I couldn't hold myself back to climb all the way down to the tea fields and scratched all my legs and even got bitten by a leech :/ but what can I say that's me.




After this exciting morning and afternoon we ended our day with a waterfall trail I wasn't prepared for Typical Jana was over excited to climb up a waterfall that she had no Idea about just because she saw some beautiful photo's haha. My friend Laura was not amused in the beginning but in the end happy about this exciting and crazy little hike up to some rock pools we have never seen before in our my life's.

But before that, we first checked out of our beautiful Homestay, said bye bye to 'the monkey' who kept us awake the whole night and left Ella with a private driver. As we planned to drive all the way to the west coast of Sri Lanka to Arugam Bay, which is about a 3-hour drive, we decided to NOT take a Tuk Tuk. The roads in Sri Lanka are not comparable to the roads in Germany and there are wild elephants everywhere on the roads and trust me you don't want to pass them with a small Tuk Tuk. Furthermore, a car is way more comfortable and safe for long distances.

See how small this Tuk Tuk looks compared to the Elephant (on our way to Arugam Bay)

Swim on top of the 220 meter high Diyaluma Waterfalls
We told our driver to stop at the Diyaluma Waterfall, which is a 1 hour detour on our way to Arugam Bay in the eastern coast of Sri Lanka. The Diyaluma waterfall is with its 220 meters, the 2ndhighest waterfall in Sri Lanka. We stopped at the foot of the waterfall which was already impressive. As soon as we left the car a local ran to us to ask if we wanted to climb to the top with him. As we didn't know the way up and trust me it is not easy to find, we agreed and followed him. Apparently there is a 40-min hike and a 2-hour walk up, but we did the fast track up to the top. We were passing some local villages, cows, chicken stalls and ended on a long steep pathway across a field of very long grass. I scratched all my legs and they were so itchy … but hey it was all worth it.


Finally at the top, you have several levels of natural pools where you can swim. You can jump from one pool to another but we just swam a bit in some of them and went to the most famous one at the edge to take some photos quickly, because of the dark black clouds that we saw on the horizon … it was going to rain soon. Just minutes later it was pouring as h*** guys. So while we were hiding under some big tropical leaves we thought "did we climb up all the way to the top for nothing" … trust me you couldn't see anything. But as every tropical storm, it ended as fast as it started. It was worth all of the hassle …