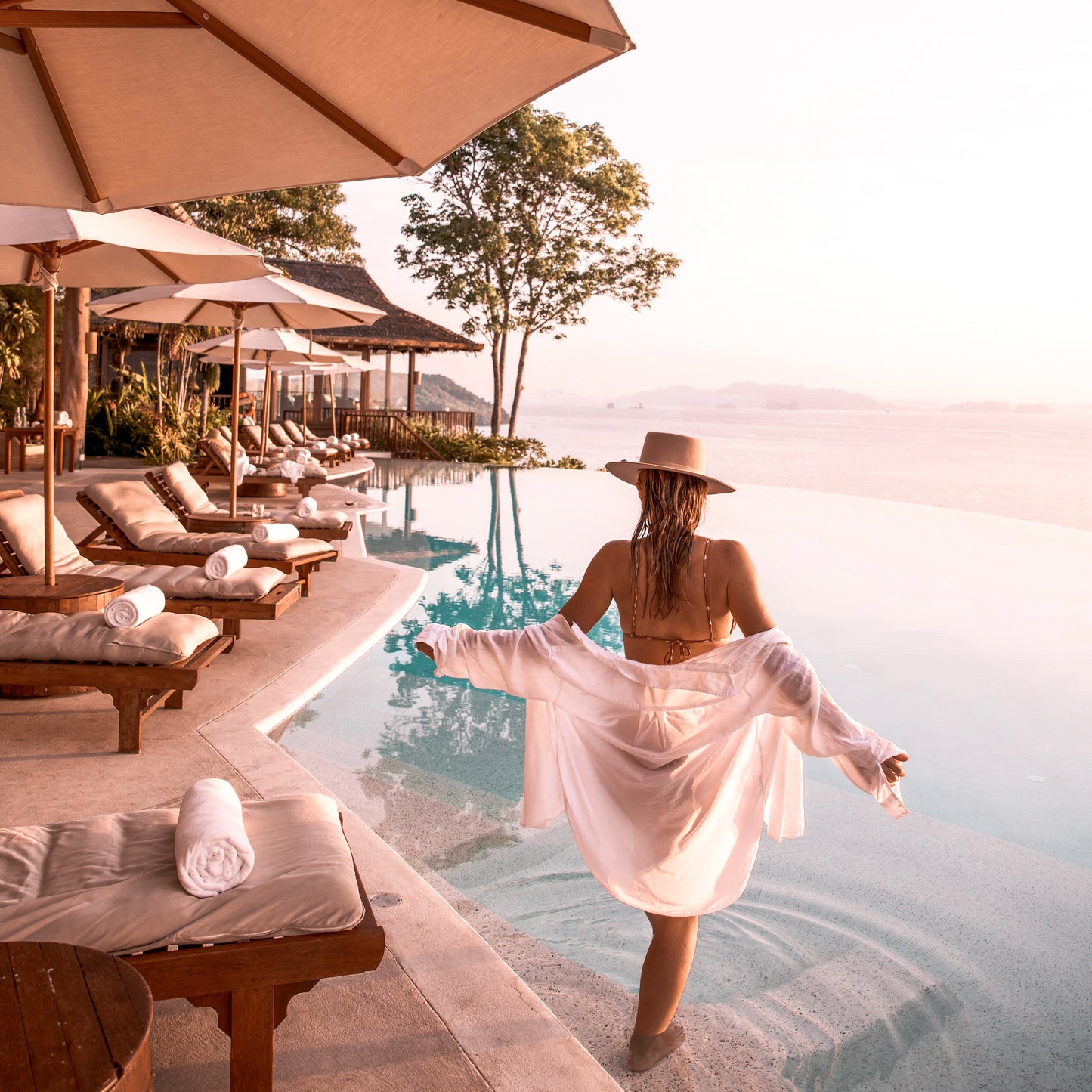 Travel Diary Thailand Part 3 – We arrived in heaven at the Six Senses Yao Noi
[Anzeige]
Hi Travel Buddies,
today I will tell you about a place that inspires you to dream, to recharge your batteries and to connect with nature. The Six Senses Yao Noi is one of the reasons why I like to call traveling my profession and why I can share such beautiful places with my lovely and friendly community that also likes to travel. It's not so much about these stunning villas that just blew me away, but more about the people who run the resort and make it what it is. They call themselves a big family, and you can feel that. Seldom have I met such warm and loving people in one place. The resort is located on a small island and many of the staff are locals. Also, one of the global strategic pillars of Six Senses Resorts is sustainability. It's not just that they don't use plastic, it's even more than that. Everything they do and everything they produce is extremely sustainable for nature. They grow their herbs and mushrooms, they have their farm with goats and chickens and they even produce their insect repellents. They also have a sustainability fund on each plot of land, which is used locally for social and/or environmental projects.
Ihr Lieben,
heute möchte ich euch von einem Ort erzählen, der zum Träumen anregt. Es ist ein  Ort an dem man seine Akkus aufladen kann inmitten der schönsten Natur Thailands. Das Six Senses Yao Noi ist einer der Gründe, warum ich so happy und dankbar dafür bin mit dem Reisen meine Brötchen zu verdienen, um so schöne Orte mit meiner tollen Community teilen zu können. Es geht nicht so sehr um diese atemberaubenden Villen, die mich einfach umgehauen haben, sondern vielmehr um die Menschen, die diesen Ort zu dem machen was er ist: ein Zuhause in der Ferne. Sie bezeichnen sich selbst als eine große Familie und das spürt man auch. Selten habe ich so warme und liebevolle Menschen an einem Ort getroffen. Das Resort befindet sich auf einer kleinen Insel und viele der Angestellten sind Einheimische. Neben diesen sehr liebenswerten Persönlichkeiten, die das Resort führen sticht natürlich der Aspekt der Nachhaltigkeit sehr hervor. Die Six Senses Resort zählen durch ihre zahlreichen Nachhaltigkeitsinitiativen zu einer der führenden Vorreiter für nachhaltige Luxusreisen. Nicht nur, dass sie kein Plastik verwenden, es ist viel mehr als das. Sie pflanzen ihre eigenen Kräuter und Pilze an, haben eine eigene Farm mit Ziegen und Hühnern und sie produzieren sogar ihre eigenen Insektenschutzmittel. Ferner unterstützen sie mit einem Nachhaltigkeitsfond soziale und Umweltprojekte vor Ort.
Location: Yao Noi (Thailand) – Six Senses Yao Noi
Travel month: March
Weather: We had just perfect weather with 25-28ºC every day and a slight wind which makes it perfect and not too hot. As it was a bit windy the humidity was just perfect.
First things first: Preparations: If you are planning to visit Thailand, you don't need a Visa as an EU citizen in advance.
It is difficult for me to put these wonderful impressions that I was able to experience during my stay into words. There were so many! Get yourself a tea and lean back - this place awakens all your senses and attention: gives you an immediate wanderlust. When we took the domestic flight from Koh Samui to Phuket, we were warmly welcomed by Team Six Senses and a wonderful boat tour later we reached Yao Noi. There, the General Manager and the team as well as our GEM (Guest Experience Maker) the dear Gwen welcomed us. After a little refreshment we were brought to our pool villa with an Electric buggy where Laura and I had to eat a little tear. The view was simply breathtaking!
Es fällt mir schwer diese wunderschönen Eindrücke, die ich durch meinem Aufenthalt erleben durfte, in Worte zu fassen. Es waren so viele! Holt euch einen Tee und lehnt euch zurück – dieser Ort weckt alle Sinne und Achtung: gibt einen sofortiges Wanderlust-Gefühl. Als wir mit dem Inlandsflug von Koh Samui nach Phuket geflogen sind, wurden wir herzlichst vom Team Six Senses in Empfang genommen und eine wunderschöne Bootstour später erreichten wir auch schon Yao Noi. Dort begrüßte uns der General Manager und das Team sowie unsere GEM (Guest Experience Maker) die liebe Gwen. Nach einer kleinen Erfrischung wurden wir mit einem Elketro-Buggy zu unserer Pool Villa gebracht, hier mussten Laura und ich erstmal eine kleine Träne verdrücken. Die Aussicht war einfach zu schön!
The Villa
After we entered the Gate to our own empire, we were truly speechless. The view of the sea and the numerous Phang Nga Bay Islands that rose out of the water like little mountain peaks was magical. Beside the beautiful view one felt like in a tree house, the architecture and furnishing was very close to nature. Everything was made of wood which gave you the feeling to be close to nature. The beautiful private infinity pool was the icing on the cake.
Nachdem wir das Tor zu unserem eigenen Reich betreten haben, waren wir einfach sprachlos. Die Aussicht auf das Meer und den zahlreichen Phang Nga Bay Islands, die wie kleine Bergspitzen aus dem Wasser ragten, war magisch. Neben der schönen Aussicht hat man sich wie in einem Baumhaus gefühlt, die Architektur und Einrichtung in dem Resort ist sehr an der Natur angelehnt. Alles ist aus Holz errichtet, was einem noch mehr das Gefühl gibt der Natur nahe zu sein. Der wunderschöne private Infinity Pool hat dem Ganzen noch das Sahnehäubchen aufgesetzt.
The Spa
What about the idea of one hour pure relaxation with an aromatherapy full body massage or a Thai massage. The spa area is so calming in the middle of the nature surrounded by some natural waterfalls. Like Garden Eden.
Einfach mal entspannen bei einer Aromaöl-Massage oder einer kräftigeren Thaimassage. Der Spa Bereich ist einfach nur Idylle pur inmitten von Natur und natürlichen Wasserfällen, eine Oase für die ultimative Entspannung. 
Farm & Sustainability Projects
It is not for nothing that the Six Senses Hotels Resort & Spa's continues to be one of the leading pioneer in sustainable luxury travel with its numerous sustainability initiatives. These beautiful hotels score not only with their stunning views and stunning interiors but also with their warmth and goodness towards the environment.
Nicht um sonst zählen die Six Senses Hotels Resort & Spa's ist mit ihren zahlreichen Nachhaltigkeitsinitiativen zu den führenden Vorreiter für nachhaltige Luxusreisen. So punkten diese wunderschönen Hotels nicht nur mit ihren traumhaften Aussichten und tollem Interior-Design, sondern auch mit ihrer Wärme und Güte der Umwelt gegenüber.
On our arrival we were able to get an insight into all the projects right away. Six Senses Yao Noi is constantly developing new initiatives and procedures to minimize the impact on the environment. Here are some of the initiatives that we were able to learn about:
Bei unserer Ankunft konnten wir gleich einen Einblick in alle Projekte gewinnen. Das Six Senses Yao Noi entwickelt ständig neue Initiativen und Verfahren, um die Auswirkungen auf die Umwelt zu minimieren. Hier sind einiger ihrer Initiativen, über die wir einen Einblick gewinnen durften:
Chicken and Goat Farm & Organic gardens
There are two fields with vegetables and many herbs as well as a small hut where mushrooms are grown. So the kitchen here is always supplied with fresh herbs and vegetables. You can taste that too!
The Six Senses also has a sheep and chicken farm.  Every morning we could choose our breakfast egg with a small basket of our own. One could not wish for more idyll, could one? Especially great was that jazz music was played all the time at the Chicken Farm, because and I didn't know that: Chickens like to listen to jazz for relaxation. :)
Es gibt zwei Anbauflächen mit Gemüse und vielen Kräutern sowie auch eine kleine Hütte in der Pilze angebaut werden. So wird die Küche immer mit frischen Kräutern und Gemüse versorgt. Das schmeckt man auch!
Ebenfalls verfügt das Six Senses über eine Schaf- und Hühnerfarm.  Jeden Morgen konnten wir uns mit einem kleinen eigenen Korb unser eigenes Frühstücksei aussuchen . Mehr Idylle kann man sich gar nicht wünschen, oder? Besonders toll war, dass die ganze Zeit Jazz Musik in der Hühnerfarm gespielt wurde, denn und das wusste ich gar nicht: Hühner hören gerne Jazz zur Entspannung. :)
Water Filtration Station
The drinking water-filled in water bottles (No plastic! Only glass!) in the villas as well as in the restaurant is produced with an own filter system. Also the used dirty water is cleaned in a cycle and is used, for example, for watering the plants.
Das in Wasserflaschen abgefüllte Trinkwasser (No plastic! Only glass!) in den Villen sowie auch im Restaurant wird mit einem eigenem Filtersystem hergestellt. Auch das benutzte Schmutzwasser wird in einem Kreislauf aufbereitet und dient beispielsweise zum Tränken der Pflanzen.
Earth Lab
I especially liked the Earth Lab. There, for example, natural insect protection is produced for the guests, so the leftover candle remains are poured into new candles. There are no limits to creativity here. Here even broken glass is crushed and re-processed, be it for the production of beautiful ornaments, cheese boards or for the renovation and construction of furniture. Aluminium is also collected here and donated to hospitals for the production of prostheses etc.
Das Earth-Lab fand ich besonders toll. Dort werden beispielsweise natürlicher Insektenschutz aus Zitronengras für die Gäste hergestellt für die Gäste oder auch übergebliebene Kerzenreste zu neuen Kerzen gegossen. Der Kreativität sind hier keine Grenzen gesetzt. Hier wird sogar kaputtes Glass zerkleinert und wieder verarbeitet, sei es zur Herstellung schöner Kacheln um Ornsmente zu kreieren, Käsebretter oder auch zur Renovierung und Bau von Möbeln. Ferner wird hier auch Aluminium gesammelt und an den Krankenhäusern zur Herstellung von Prothesen etc. gespendet.
Timber recycling
 Even building timber remains were not wasted here in the Six Senses Yao Noi. The remains are reused for renovation work or help to build the Hornbill Nests, which have a small population and are under protection.
Auch Bauholzreste werden hier im Six Senses Yao Noi nicht verschwendet. Die Reste werden für Renovierungsarbeiten wiederverwendet oder tragen zum Bau der Hornbill Nester bei, die dort eine kleine Population haben und unter Schutz stehen.
Dining
The exceptionally good food should not remain unmentioned of course. Because this is one of the most important criteria for me: The kitchen! During our stay we were able to enjoy exceptionally good international and Thai cuisine in various restaurants of the resort. I found the dinner at the Hilltop Pool under the starry sky incredible. I had the 'Klong Phai Farm Chicken' and I am not exaggerating when I say it was the best chicken I have ever eaten in my life! Also, the cheese platter was not from bad parents YUMMI!
Das außergewöhnlich gute Essen sollte natürlich nicht unerwähnt bleiben. Denn das ist unter anderen eines der für mich wichtigsten Kriterien: Die Küche! Während unseres Aufenthalts durften wir in verschiedenen Restaurants des Resorts ausgezeichnete internationale und thailändische Küche genießen. Das Dinner am Hilltop Pool unter freien Sternenhimmel fand ich unglaublich. Ich hatte das 'Klong Phai Farm Chicken' und ich übertreibe nicht, wenn ich sage, das es war das beste Hühnchen war, was ich je in meinem Leben gegessen habe! Auch die Käseplatte war nicht von schlechten Eltern - YUMMYI!
It's a perfect day for a perfect day
There are endless possibilities how you can spend the day at Six Senses Yao Noi. I will now tell you about our day, which Laura and I will certainly never forget. It was 6 o'clock in the morning when we were picked up with the buggy and brought to the Hilltop Pool. Everything was still dark there and we had this magical place for a time all by ourselves - it was just fantastic. Little by little the sky changed its colour from pink to red to orange. The sun rose directly behind the small Phang Nga Bay Islands rising out of the water. An amazing sight. After the sun had risen we had an extensive breakfast to strengthen us for the day. Afterward we were equipped with a typical Thai 'Longtail' boat including captain and headed for the Hong Islands. From lonely bays and breathtaking cliffs or even swimming monkeys we  saw everything. It was an unforgettable experience. 
Es gibt unendlich viele Möglichkeiten wie ihr den Tag im Six Senses Yao Noi verbringen könnt. Ich werde euch jetzt von unseren Tag berichten, den Laura und ich bestimmt niemals vergessen werden. Es war 6 Uhr morgens als wir mit dem Buggy abgeholt wurden und zum Hilltop Pool gebracht wurden. Dort war noch alles dunkel und wir hatten diesen magischen Ort für eine Zeit für uns ganz allein – es war einfach traumhaft. Nach und nach änderte der Himmel seine Farben, von pink über rot zu orange. Die Sonne ging direkt hinter den kleinen aus dem Wasser ragenden Phang Nga Bay Islands auf. Ein Wahnsinns Anblick. Nachdem die Sonne aufgegangen war haben wir uns ein ausgiebiges Frühstück gegönnt, um uns für den Tag zu stärken. Anschließend wurden wir am Hotel eigenen Pier mit einem typisch thailändischen 'Longtail' Boot, inklusive Kapitän abgeholt und fuhren in Richtung der Hong Islands. Von einsamen Buchten über atemraubenden Klippen oder auch schwimmenden Affen haben wir wirklich Alles gesehen. Es war ein unvergessliches Erlebnis.  
Afterwards we were so exhausted from all excitement but even more hungry. After a little swim at our private pool back at the resort we had some delicious lunch and a long chill at the hilltop pool. It was a perfect finish of the day. 
Als wir zurück zum Resort kamen, waren wir nicht nur erledigt von all den Eindrücken und der ganzen Sonne, sondern auch sooo hungrig. Wir sind schnell in unseren Pool gehüpft und haben diesen Wahnsinnstag bei einem super leckeren Lunch sowie einen paar Runden im Hilltop Pool ausklingen lassen. Einfach der perfekte Abschluss.
Final Thoughts
The Six Senses Yao Noi is an extraordinary place. The warmth of the team as well as the laid back atmosphere gives you the feeling of having arrived. I have never felt so at home so far away from home. I would like to see more hotels being so conscientious with the environment. A big thank you.
Das Six Senses Yao Noi ist ein außergewöhnlicher Ort. Diese herzliche Wärme des Teams sowie auch die 'laid back' Atmosphäre geben einem das Gefühl angekommen zu sein. Ich habe mich noch nie zu vor so weit entfernt von der Heimat so zu Hause gefühlt. Ich würde mir wünschen das mehrere Hotels so gewissenhaft mit der Umwelt umgehen würden. Ein ganz großes Lob.